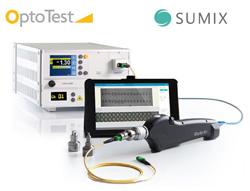 Wednesday, April 7th 2021, 15.00-16.00
You are invited to attend the webinar "Key Attributes of Modern Fibre Optic Cleaning and Inspection Solutions" sponsored by OptoTest and Sumix.
Dirt and damage on fibre optic connections account for most problems in fibre networks. Cleaning and inspection are necessary protocols and many solutions are available. Key differences among inspection solutions are under appreciated by many which could leave problems remaining undetected. This webinar explores these issues to enable attendees to make informed decisions about the solutions they implement for their needs.
Why is magnification a misleading specification for inspection equipment and which specifications matter more?
When are automated inspection solutions more reliable than manual solutions?
When is interferometry needed in addition to microscopy?
Do expanded beam interconnects eliminate the need for these protocols?
REGISTER: Click here
For more information regarding OptoTest/Sumix products, please click here for inspection, and click here for testing.