Zygo has produced new brochures for its Metrology Systems that give a great overview of their product offerings:
Starting with the "base level" Verifire Interferometer, which is pretty well specified, it outlines:
Enabling technologies: Zygo He/Ne laser, QPSI vibration tolerant technology.
Dynamic performance: DynaFiz & DynaPhase technology.
High spatial resolutions: Verifire HD & Verifire HDx.
Larger apertures: 12", 18", 24" & 32" apertures.
At-wavelength systems: 1.06um, 1.55um, 3.39um, 10.6um, etc.
Parallel plate measurement: MST technology.
Downward looking systems: Radius measuring, 12" flat, Verifire Asphere, kits.
The new brochure highlights:
The key technologies: CSI, SureScan, SmartPSI, Regions Analysis, SmartSetup, Stitching & Patterns, and integrated Python for unrivalled automation.
The Nexview NX2, NewView 9000, ZeGage Pro and special-purpose systems.
Applications and industries.
OEM and custom metrology capability.
ZMI – Displacement Measuring Interferometer for stage positioning.
ZPS – Absolute Positioning System
TMC Vibration Isolation Platforms for Metrology
Lambda Photometrics is the new UK distributor for TMC since 1st January 2021 and can provide a range of solutions for metrology systems.
Optical tables, breadboards and supports for laser interferometers.
CleanBench laboratory tables for optical profilers, AFM, confocal microscopy, etc.
Benchtop vibration isolators – active or passive for profilers, AFM, microscopes, SEM's, etc.
Piezoelectric active vibration cancellation – for SEM/TEM, lithography, nanotechnology centre's, precision manufacturing and research.
Micro-g air isolators for in-tool applications – ultra-precision instruments.
Zygo Dynafiz on TMC table with two breadboards supported by MaxDamp Isolators. The breadboards are fitted with levelers that allow the breadboard to be positioned at different sites on the table to enable various configurations. The breadboards raise the optical axis of the DynaFiz from the table to the operating height required for the mounted optics.
Zygo Verifire MST+ with 18-inch beam expander and 2m interferometric radius scale on TMC 4.2m x 1.2m x 0.6m optical table with six high capacity MaxDamp vibration isolation supports.
ZEISS Light Microscopes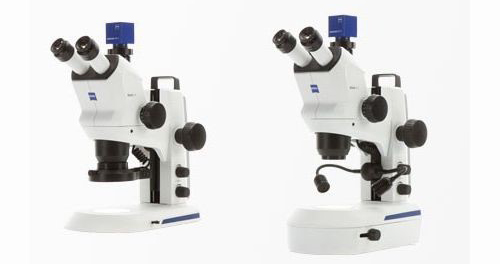 Lambda sells a range of ZEISS light microscopes for physical sciences and industrial applications.
ZEISS Stemi 305 and 508 compact, reliable Greenough stereo microscopes.
ZEISS Axiolab 5 for materials – digital documentation has never been easier.
ZEISS Axioscope 5/7 for materials – designed to meet the optical imaging requirements of materials laboratories.
Other ZEISS light microscopes for physical sciences, industrial and inspection applications. Please ask, if we can't supply we can refer you onto the right ZEISS contact.
Demo equipment at Lambda
To speak with one of our Sales & Applications Engineers please call 01582 764334 or click here to email.
Lambda Photometrics is the leading UK Distributor of Characterisation, Measurement and Analysis solutions with particular expertise in Instrumentation, Laser and Light based products, Optics, Electro-optic Testing, Spectroscopy, Machine Vision, Optical Metrology, Fibre Optics, Microscopy and Pulsed Xenon Light Systems.