Complex asphere metrology ideally suited for production-level volumes.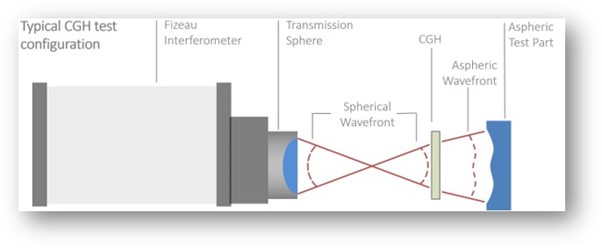 Advances in diamond turning and small-tool deterministic polishing have dramatically increased optical manufacturing capabilities to produce nearly any surface shape. Designers have leveraged these capabilities by increasingly designing aspheric optics into imaging, sensing and laser systems to improve performance and reduce size and weight of optical systems.
However, it isn't just the polishing equipment that is required to produce high quality aspheric optics – metrology is required to guide polishing and material removal from the surface to converge to an ideal surface figure that matches the design closely.
A CGH (Computer Generated Hologram) is an optical null element that creates a unique wavefront enabling interferometric testing of complex optical surfaces including freeform, gullwing and off-axis aspheric shapes.
Zygo's Verifire VTS and Verifire+ Asphere products are ideally suited for CGH application for production-level asphere and freeform optics. 
Also, DIOPTIC's Diffractive Fizeau Null Lenses information can be found here.
Download the DFNL Type CGH with integrated Fizeau Reference Plane white paper by Dr. Florian Hudelist here.
To speak with one of our Sales & Applications Engineers please call 01582 764334 or click here to email.
Lambda Photometrics is the leading UK Distributor of Characterisation, Measurement and Analysis solutions with particular expertise in Instrumentation, Laser and Light based products, Optics, Electro-optic Testing, Spectroscopy, Machine Vision, Optical Metrology, Fibre Optics, Microscopy and Anti-vibration tables & custom solutions.